Custom Coffee Sleeves Options
Choose from 2 sleeve types based on the type of customization you require.
Premium Sleeves
– Offset printing unlimited colors with CMYK colors
– Allows for full background printing (full bleeds)
– White or Kraft (simulated) sleeves
Standard Sleeves
– Offset printing of 1 or 2 colors
– Must print in defined print area on both sides
– White or Kraft (simulated) sleeves
| Feature | Premium | Standard |
| --- | --- | --- |
| Number of colors | Unlimited CMYK colors | 1 or 2 |
| Minimum order | 1250 | 1250 |
| Coating | Semi Gloss or Matte | Semi Gloss or Matte |
| Texture | Embossed checkerboard pattern or Smooth | Embossed checkerboard pattern or Smooth |
| Full Background Printing | Permitted | Not Permitted |
| PMS Colors | Converted to CMYK. Printing in actual PMS inks cost extra. | Converted to CMYK. Printing in actual PMS inks cost extra. |
HOW PERSONALIZED COFFEE SLEEVES CAN BENEFIT YOU
If you want to stand out from the competition and make an impression, personalized coffee sleeves are your best bet. With unlimited colors and designs available for printing your logo or customized message on, these custom sleeves will certainly be eye-catching! Not only that but they offer plenty of advantages – customers get their unique cup each time they order while cafe owners can promote their business in style by providing this additional service. There is no doubt that personalized coffee sleeves are definitely worth considering!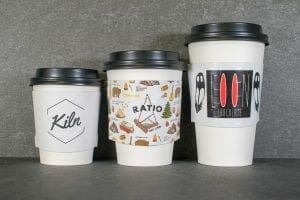 We offer a variety of sleeves sizes to choose from depending on your needs (some sizes incur a surcharge due to needing to change over equipment). Below are our most common sizes, however we do have the ability to custom make sleeves for almost all cups. We do have custom dies for smoothie and and cold cups as well.
12oz – 20oz – (Minimum 1250 order) Sleeves fit standard 12oz, 16oz and 20oz cups. This is the most common sleeve size used. Please note each size of cup (12, 16 and 20oz) has a different tapered edge and so the sleeve will not fit all cup sizes the same
10oz – 12oz – (Minimum 3750 order) Most commonly ordered when using 10oz cups (Sucharge applies)
8oz – (Minimum 3750 order) For use with only with 8oz cups. We offer two slightly different 8oz sleeves to best fit your cup (Sucharge applies)
PLEASE NOTE : Our cup sleeves are meant to be used with single wall hot cups and will not fit double walled cups. In addition, our sleeves will fit industry standard size cups, however not all manufactured cups are the same and so the fit can vary.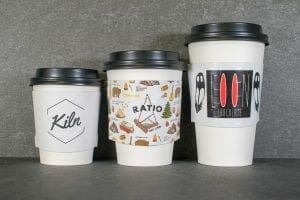 Our thick 23pt CCNB paper, crafted from 100% recycled fiber, offers superior print quality with a semi-gloss finish on the printing side and recycled newsprint backside. Depending upon your preference, you can choose either a glossy or matte coating to be applied to the sleeves for maximum color vibrancy or subtlety respectively.
KRAFT SLEEVES
Instead of actually printing on Kraft paper, we print a simulated Kraft background on white paper and apply a matte coating. This way, light colors will stay vibrant and attractive without looking dull or murky like they would when printed directly onto Kraft!
Our coffee sleeves come with a checkerboard embossed texture, aiding in providing extra grip to reduce heat transfer. However, if you order 2500 or more of our paper cup holders, you have the option to upgrade and select a smooth version without an embossed pattern – which has become popular among many people!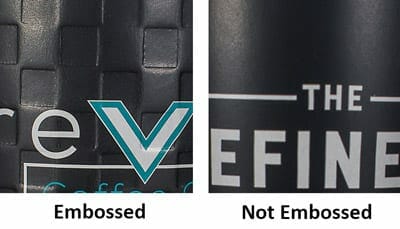 Before we commence with the printing of your sleeve order, you will receive a digital PDF proof from us for approval. As such, please factor in this review process when calculating your turnaround time!
PROOF TURNAROUND TIME
Artwork provided using the HotShot template files
Once we have received your order and template file we will provide a proof to you generally within 6 business hours.
HotShot to provide design services
Depending on the complexity of the design required and completeness of supplied files, a proof will generally be provided within 1-2 days.
IMPORTANT:
– Supplied files of poor quality may create delays in providing artwork services and generating of proofs
– Upon APPROVAL of proofs, orders must be paid prior to actual printing of the sleeves.
Once you've approved the proof and paid for your order, that's when our turnaround time begins! This is the number of business days it will take us to finish production on your sleeve. Please note that shipping times are not included in this calculation.
We offer the following production service levels
12oz-20oz Sleeves
7 business days for quantities up to 20,000 (regular production)
12 – 14 business days for quantities up to 10,000 (15% price reduction)
Rush / Fastest – As fast as 24 hour turnaround. Contact us for pricing
10oz-12oz and 8oz Sleeves
7 – 9 business days for quantities up to 20,000 (regular production)
Rush / Fastest – As fast as 48 hour turnaround. Contact us for pricing
In addition to RUSH production we do offer different UPS shipping services when faster delivery times are required,